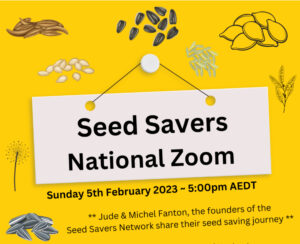 National Seed Savers Zoom
Jude & Michel Fanton, the founders of the Seed Savers Network share their seed saving journey.
Join the Zoom session to connect with other seed savers from seed saving groups and seed libraries across Australia. Everywhere Seed Savers are working locally in our communities to conserve locally-adapted seeds of edible and useful plants. All seed savers, experienced or just starting out are welcome to join the conversation. 
Jude Fanton, with her partner Michel, literally wrote the book on seed saving for Australian conditions. Their book, 'The Seed Savers Handbook' has been the beloved guide for many seed savers as they began their journey. The book has also been translated into other languages and is used around the world. Michel & Jude are also the founders of Australia's Seed Savers Network. Their goal is to show how gardeners can protect our global food heritage.
Jude and Michel Fanton from the Savers Network, based in Byron Bay will give a presentation about their inspiring seed saving journey during the session.
More information about Jude and Michel Fanton can be found on their website – www.seedsavers.net
___________________
Sunday February 5th 2023
Start Time: 05 Feb 2023 05:00 PM
Finish Time 05 Feb 2023 06:30 PM
Australian Eastern Standard Time – Canberra, Melbourne, Sydney
This event is free but we ask that you pre-register using the link provided.
___________________
LOCAL MATTERS: The pandemic has led many people to connect with their local environment and community in new and deeper ways. What local impacts and threats have come into our focus? What local solutions are emerging to support rapid transformation?
This event aims to connect Australian seed saving groups and individuals across the country so that support and resources can be shared. To protect and improve our abundant heritage of food seeds and plants we see a strong network as critical to support our climate adaption needs in each location.
This event is part of the regular ongoing Australian National Seed Saver Zoom meetups and is hosted by: Canberra Seed Savers Coop, Mareeba Seed Savers, Bega Valley Seed Saver, Mid Blue Mountains Seed Savers.
___________________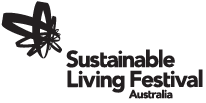 This event is listed as part of the Australian National Sustainable Living Festival which runs from 1 -28 Feb 2023 – https://www.slf.org.au/