Welcome to Seed Savers Connect, a knowledge, resource and connection hub about growing and saving seeds. Seed Savers Connect is a volunteer run website for seed savers and seed saving groups across Australia. We are a passionate collective of volunteers from different seed saving groups and our mission is to promote seed saving, to share the knowledge, wisdom and experiences of seed savers from across Australia and to build the food security of our communities.
Through seed saving, we aim to protect our common heritage and create a sustainable future. We are motivated by our love of growing and saving seeds and our commitment to promote seed saving. We are building on the work of generations of Australian seed savers and hope to help more local seed saving groups to form and succeed, inspired by the philosophy of the Seed Savers Network. 
On this site, you will find guides, stories and other seed saving resources from seed savers across Australia. Contributions in the form of articles, guides, stories and photos are welcome. Please contribute to help us share the wealth of knowledge and wisdom in our community.   
Seed saving is easy and it's for everyone. It's simply a matter of letting your plants live a full and happy life, selecting the best specimens that have the characteristics you want to promote, and then collecting, storing and replanting the seeds in the next season. Seed saving is a cycle from seed to seed, harvesting the abundance of seeds that plants produce at the end of their lives to continue the next generation.
When you grow from locally saved seed, you get plants that are adapted to your climate and soil and are more likely to thrive. It's much cheaper than buying seedlings and when you grow from and save and share seeds, you can access an amazing range of plants and unique varieties you can't find in your local nursery. 
Recent updates, news & events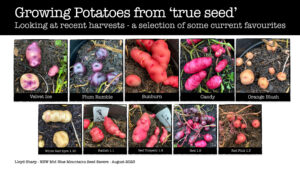 Events
True Potato Seed (TPS PDF file format) This is a PDF copy of the slides from a talk given by Lloyd Sharp from Mid Blue
Read More »