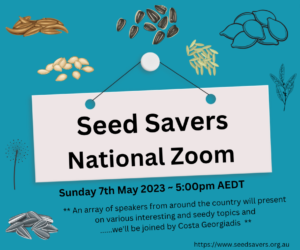 Join us for the next national seed savers zoom in May to connect with other seed savers, share experiences, ask questions and hear interesting stories about a range of seed saving topics including landrace breeding, organizing a seed saving group or project, saving seeds on a working farm, drying seeds in wet weather and interesting seed varieties. There will be opportunity to ask questions and contribute your thoughts too.
We're excited to have Costa Georgiadis joining us for this discussion!
Costa's appearance is supported by the Australian Government Black Summer Bushfire Recovery Fund.
____________________
Agenda
Welcome
Ask your questions and help others out with answers about seed saving and organizing seed saving groups and events.
Arian McVeigh – ACT – Canberra Seed Savers – Seed saving as a cooperative project – Dwarf Tomato Project Working Group.
Jon Kingston – NSW – Community Gardening – Seed varieties that have found their way to him through public programs he is engaged in.
Gregg Mueller – Vic – Bendigo Seed Savers- What is landrace breeding and the landrace broadbean project.
Ruth Brown – Qld – Ravenshoe Seed Savers – How to dry seeds in wet weather and how to stop acid-free type seeds from going mouldy.
Nick Soudakoff – NSW – Bilpin Seed Savers – how the group's approach to seed saving is organised and what varieties they are focussing on.
Jim Hodgetts – Qld – Lighthouse Regenerative Farm, Sunshine Coast – The constant cycle of food and seed on a working farm, focusing on Wax Gourds (aka Winter Melons).
_____________________
Details
Sunday 7 May 5pm-6.30pm
Register in advance for this meeting:
https://us06web.zoom.us/meeting/register/tZAldO-orTgsE9KfUGMonfECsvUbPck6Nc8y
After registering, you will receive a confirmation email containing information about joining the meeting.

This event uses Zoom and the software can be downloaded from free from the offical Zoom website 
Zoom – https://zoom.us/
You will be provided with the connection link once you are registered.